Do you Ski at the Sundance Film Festival?
In my life as an avid skier and a journalist, my worlds collide in funny ways. The Sundance Film Festival—which brings a huge contingent of my professional community to my front door—is a great example of this. Last year, for instance, an interview with a favorite actor proved to me that not skiing can be a win. (WHAT?!)
I had a total fan-girl style freakout when I got to watch Jemaine Clement (Flight of the Conchords) in two films. After I watched Jemaine's second film of the fest, People, Places, Things, directed by Jim Strause, I knew I had to interview him. (The first, Don Verdean, was a romp through which I laughed myself silly.) People was a more realistic romantic dramedy, which provided a surprising number of laughs for a story about a depressed comic book writer in the throes of a brutal breakup.
One of the best things about Sundance is that interviews are set up on the fly. To wit: after the lights came up on People, I tapped out an email on my phone to the film's publicist, Monica. She quickly confirmed an interview for Wednesday—as in the same day I was expected to meet my ski group for "Women on Wednesday," at Deer Valley.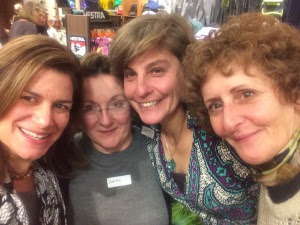 Hanging with my WOW peeps. Darlene, Donna and Terri.
Ordinarily, WOW is sacrosanct in my schedule. But in this case, work trumped it, and I was (secretly) thankful. Monica had no idea that she was saving me from the tight grip of denial— my knee was, as of the previous week, too injured to ski, but I didn't want to cave to that.
Here's how I spent the week before Sundance, last year: icing, elevating and consulting with a doctor. The news wasn't good, but I wasn't ready to admit it.
I pulled my brace on, over my jeans, and headed off to the interview at Acura Sky Lodge.
I was part of a round table with two other journalists. We covered all of the usual topics: How Jemaine had researched his role as a graphic novelist (he shadowed a professor at The New School), how Jim mined his personal life for comedic art ("I'm not ashamed to do it," he said. "If people laugh, then it's not like therapy on the screen.") 
I always save a few specific questions about skiing and the talent's general enjoyment of our town for the end of the interviews I do at Sundance. Often, this results in some really fun conversations about skiing—or even, in the case of Melissa Leo, the setting up of a ski date mid-fest. Once, upon learning that I was a local, actor Mark Harmon asked me–rather sheepishly—if I could help him track down a pair of reading glasses. He had a script to read, and had left his specs at home. (I insisted, of course, that locals like nothing more than helping visitors find what they need here. It's the truth, after all.)
Jim Strause, my knee brace, and Jemaine Clement
Still, each time I approach an interview with actors or directors whose work I particularly admire, I worry I'll be let down by the interaction. Maybe they'll be difficult to interview, maybe they won't be as charming as their work suggests. Maybe they'll be reluctant to give in to the festival's relaxed vibe. Maybe we'll have no common ground. On this day, Jemaine and I had more in common than we might have had ordinarily. When I asked, "Do you ski?" his answer—unexpected for a New Zealander—was, "No, I don't." And, when I shook my head, pointed to my knee brace, and said, "I know what you mean, man. I know." He laughed.